As horse owners, we are always looking for ways to make horse care easier. There are a lot of gadgets for equines that can help us do just that. Here are the 5 top-notch horse gadgets that are worth considering. These trinkets are sure to make horse ownership easier and more enjoyable.
1. Horse Grooming Vacuum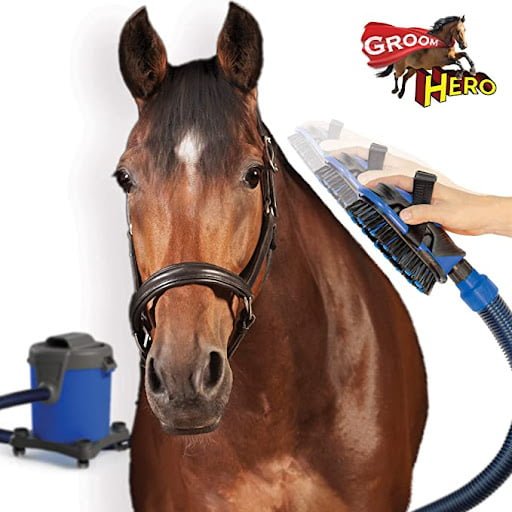 Horse owners know that one of the most important things to keeping their horses healthy and happy is maintaining a clean coat. A good-quality horse groomer can help make this task much easier and quicker. The gear can also help prevent skin problems and keep your horse's coat shiny and free of tangles. The vacuum can be sold separately or as a part of a horse grooming kit.
If you are looking for a horse grooming vacuum, choose one that is specifically designed for horses. These vacuums are usually larger and have more powerful suction than regular pet hair vacuums. They also come with horse-specific attachments. These include a curry comb attachment, which can help loosen and remove dirt and debris from your horse's hair.
2. NIGHTWATCH – The Equine Smart Monitor
This horse gadget is a game-changer for horse owners. The Nightwatch is a smart halter that uses AI to monitor your horse's health. It tracks things like heart rate, respiration, and activity levels. The Nightwatch gadget also has a built-in GPS so you can track your horse's location.
The Nightwatch sends all of this information to an app on your phone. This allows you to keep track of your horse's health and whereabouts at all times.
3. Pivo Pod Equestrian Edition
The Pivo Pod is a must-have horse gadget for anyone who likes to take photos or videos of their horse. The Pivo Pod is a robotic camera mount that allows you to get the perfect shot every time.
You can control the Pivo Pod with your phone or tablet. It has a panning and tilting feature that lets you get creative with your shots. The Pivo Pod also comes with an attachment for your Go Pro camera so you can get even better video footage of your horse.
4. Unisit Sit Strap System
The Unisit strap is a go-to tool for beginner riders who are learning the right sitting posture. It is also great for horse owners who want to improve their horse's comfort and performance. The Unisit strap system helps you find the perfect balance while sitting in a saddle.
It comes with a stirrup attachment that makes it easy to use. The Unisit strap is adjustable, so you can find the perfect fit for your equine. The Unisit strap system is a must-have horse gadget for anyone who wants to improve their riding skills or the comfort of their horse.
5. Self-Cleaning Waterer
A self-cleaning waterer for horses is a must-have for your smart barn. This handy gadget keeps your horse's water clean and fresh. The self-cleaning waterer has a filter that removes impurities from the water. The tool is easy to use, and it is an ace way to keep your horse hydrated.
Such a waterer comes with a timer that allows you to set the gear and forget it. This product is made of durable materials that can withstand the elements. It also keeps the water freezing in winter, which is a great perk.
The Final Word
Look for advanced horse gadgets that will make your horse care a breeze. With these five gadgets, you can ease your horse ownership routine and keep your companion healthy and happy. Choose the products that fit your horse's needs and your budget. Be sure to read the reviews before you buy any of these gadgets.